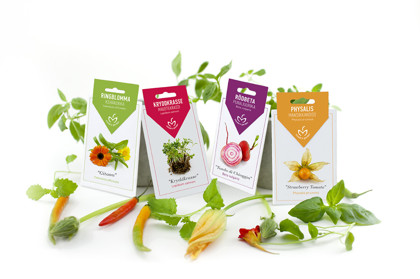 Minda's seed packages have more features. In addition to the "easy to grow" assortment, the sachet is combined with a marking stick. The sticker is taken away from the pack and put into the soil after sowing as a "remember"-stick.

The stickers have different colors - they indicate what kind of seeds the package contains and where to grow the seeds. Red sticker - herbs, orange sticker - can be grown in pots, purple sticker - can be grown in pallet collar, and green sticker - edible flowers.

Minda's product range is carefully selected, several varieties are suitable for all-year-round growing in the kitchen window, many in the pot on the balcony or in the back yard pallet.
The assortment of "Minda's kitchen garden" is suitable for growing in a growing bed or a pallet with soil. Some varieties such as spring onion thrive in a spacious pot in the back yard. Other varieties like radishes and lettuce can be sown and harvested several times throughout the summer. Do not forget to fertilize occasionally.

Minda´s kitchen garden includes seeds for:
Several varieties of lettuce, carrots, chard, radish, beetroot, spring onions, sugar snap and fennel.
Do you have access to fresh herbs all year round without risking the herbs to freeze on the way home from the supermarket?

Grow your own herbs at home in the kitchen window instead!

Minda's herbs include quality seeds that can be grown in pots both outdoors and indoors on the windowsill:
Dill, parsley, mintmix, oregano, lemon balm, coriander, tarragon, regular chives, oriental chives, basil, thyme, cress and sweet marjoram.

In fall time the pot can be moved indoors or kept bright and frost-free for a continuing supply of fresh herbs. Some varieties of thyme can hibernate outdoors (protected) and provide new crops next year.
Minda's edible flowers" promises a feast for both the eye and the palate!

The seeds can be sown in a wide pot (diameter 30 cm, height 30 cm) and placed in temperature above 15 degrees C. If you want to start early in the season, sow seeds in pots indoors. When the weather is suitable place the pots in the back yard or the balcony.

Minda´s edible flowers include: marigold, nasturtium, and borage.
The assortment in "Minda's pot vegetables" is specially selected to be grown in a spacious pot (diameter 30 cm, height 30 cm or larger). To get started early in the season you can sow the seeds indoors already in late winter. The pot is later on placed on the balcony or in the back yard when the weather is mild. Fertilize the seedlings regularly. Lettuce and rucola can also be grown and harvested in the spacious indoor pot.

"Minda´s pot vegetables" includes seeds for:
Tomatoes, physalis, aubergine, sweet and hot peppers, pumpkin, rucola, cucumbers, squash, beans, mache lettuce and purslane.